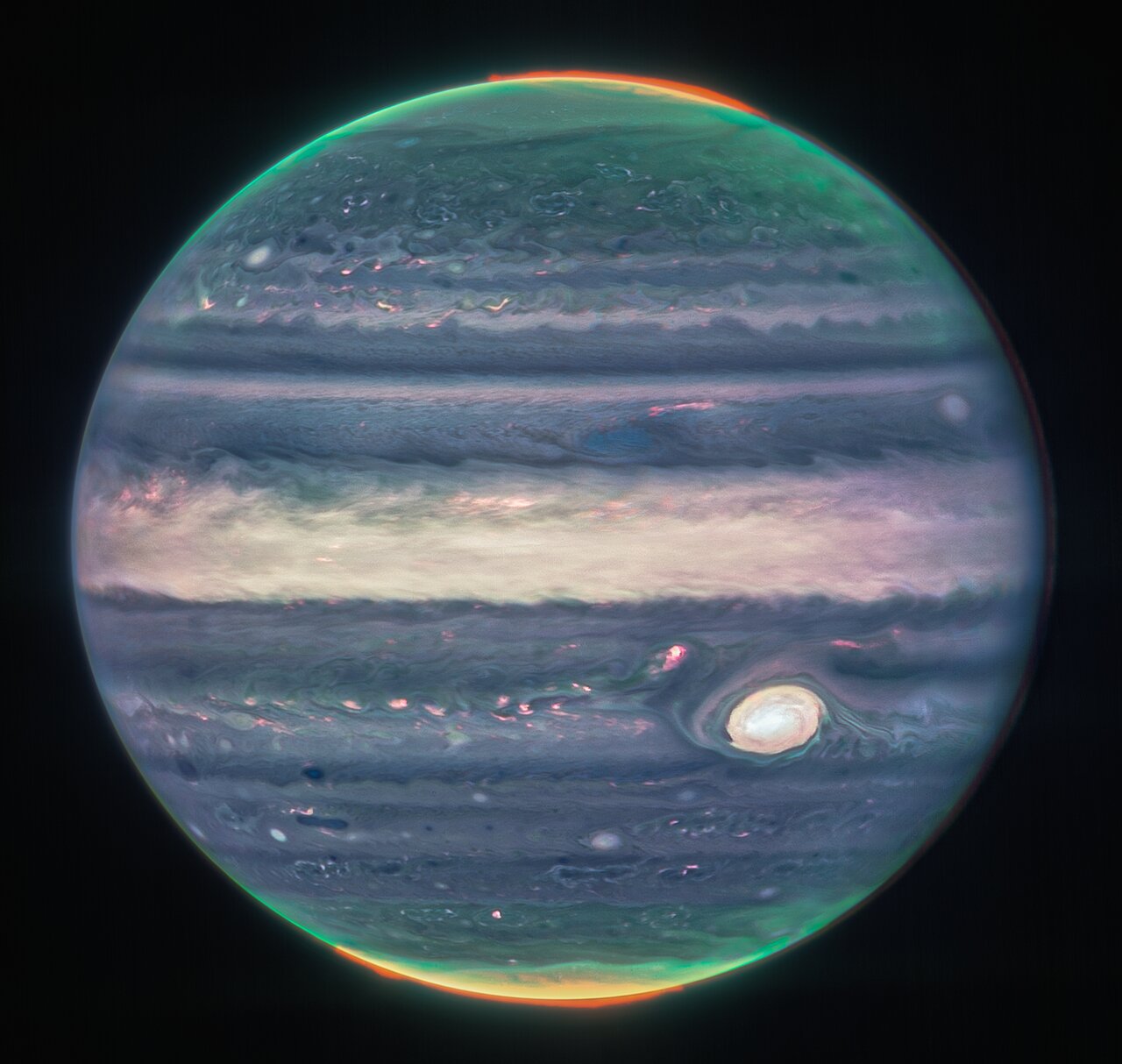 NASA has released an even more clear and detailed version of an early image the James Webb Telescope took of Jupiter. The giant mirror of the Webb is able to show us details of the giant planet's upper atmosphere that we usually only got from visiting spacecraft. Jupiter is the largest of the planets with which we share the solar system. Its huge sphere, made mostly of gas and liquid, is so big that 1,321 Earth's would fit inside. Yet it spins on its axis in only 10 hours (as opposed to the 24 our much smaller Earth takes to spin.)
Astronomers now know that deep inside Jupiter, the element hydrogen is under such great pressure from the weight of the layers above it, that it behaves like a metal. A spinning metal is exactly what a planet needs to behave like a giant magnet. Our Earth is magnetic because of the spinning iron and nickel in our core, but the strength of Jupiter's liquid-hydrogen magnet is roughly 20,000 times greater than ours.
If you've ever traveled close to the Earth's polar regions, you might have seen the northern and southern lights (called auroras by scientists.) The Earth's magnetic field is like a great shield, protecting our planet from high-speed particles from the Sun and other stars. The only place the magnet allows particles to enter our atmosphere is near the north and south poles. As these high-speed particles slam into our air, they make the air molecules glow, creating great curtains of light in the sky.
Now look at the image of Jupiter. Can you see the glowing lights near the top and bottom? Those are views of the much more dramatic auroras in Jupiter's upper atmosphere, which the James Webb Telescope has captured in infrared light — the kind of radiation it gathers from its cold vantage point 1 million miles from Earth.
Remember that the Webb images are all false color. Here is NASA's description of how the colors are used: "This image was created from a composite of several images from Webb. The auroras shine in a filter that is mapped to redder colors, which also highlights light reflected from lower clouds and upper hazes. A different filter, mapped to yellows and greens, shows hazes swirling around the northern and southern poles. A third filter, mapped to blues, showcases light that is reflected from a deeper main cloud [layer]."
Note the storms visible in this image. The largest storm, called the Great Red Spot, because it is red in visible-light images, is larger than the Earth. Its size has varied over the years, and it has sometimes been larger than two Earths. The weather on Jupiter is more dramatic and complex than anything the "Eleven O'Clock News Team" ever dares to dream about!