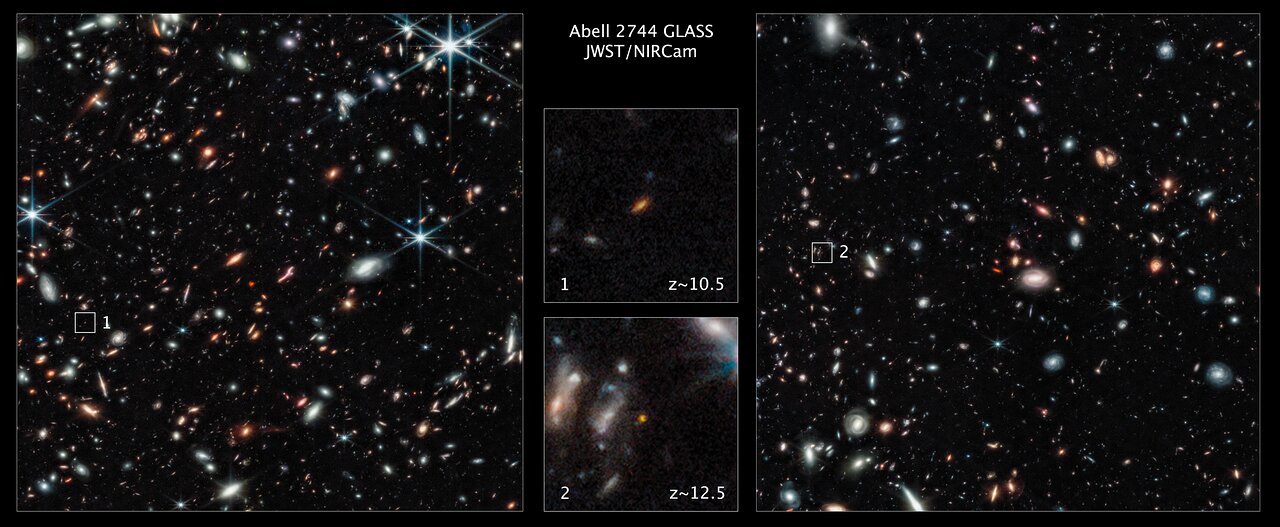 Astronomers working with the James Webb Space Telescope have just identified the most distant galaxy ever observed by human eyes. This galaxy (seen as a red dot in our image in the very center of inset box #2) is so far away that the infrared waves we see left the baby galaxy just 350 million years after the Big Bang. That's looking back through 91% of the time that has passed in the universe — closer to the dawn of time than any other galaxy seen so far.
In astronomy, the only way we know about distant objects is by observing the light and other kinds of radiation they send us. The further away an object is, the longer it takes light to reach us. So what we see is light delayed by the great distances in the universe. The further away an object is, the longer ago we are seeing.
The galaxy in inset box 1 is seen roughly 450 million years after the Big Bang, also mind-bogglingly long ago. Although these are just first estimates of distance, which will be refined in years to come, they show us that one of our great hopes for the James Webb telescope — that it could show us the time when galaxies were first gathering together and beginning to emit light and other radiation — is well within its capabilities.
The two really distant galaxies seen in the inset boxes are behind (way behind) the cluster of galaxies in the foreground, This busy, well-studied collection of galaxies is sometimes called Pandora's Cluster (because studying it has opened a box of complexities.) It seems to be the result of the collision of four smaller clusters of galaxies, which merged their stars and raw material in a giant cosmic "pile-up." Also known by its catalog number, Abell 2744, the cluster is about 4 billion lightyears away. That's much closer to us than the galaxies at the centers of the insets, which are more than 13 billion lightyears distant. On the right and left images, you can see the tiny boxes outlined that are enlarged in the center.
On a related topic, I wanted to mention that I was recently asked to give an introductory talk on the James Webb Space Telescope for the Commonwealth Club of California, a venerable forum for the discussion of current events in all fields. The Club has kindly made the talk available free for everyone on the Web at: https://www.youtube.com/watch?v=j57HR0QZw_Y