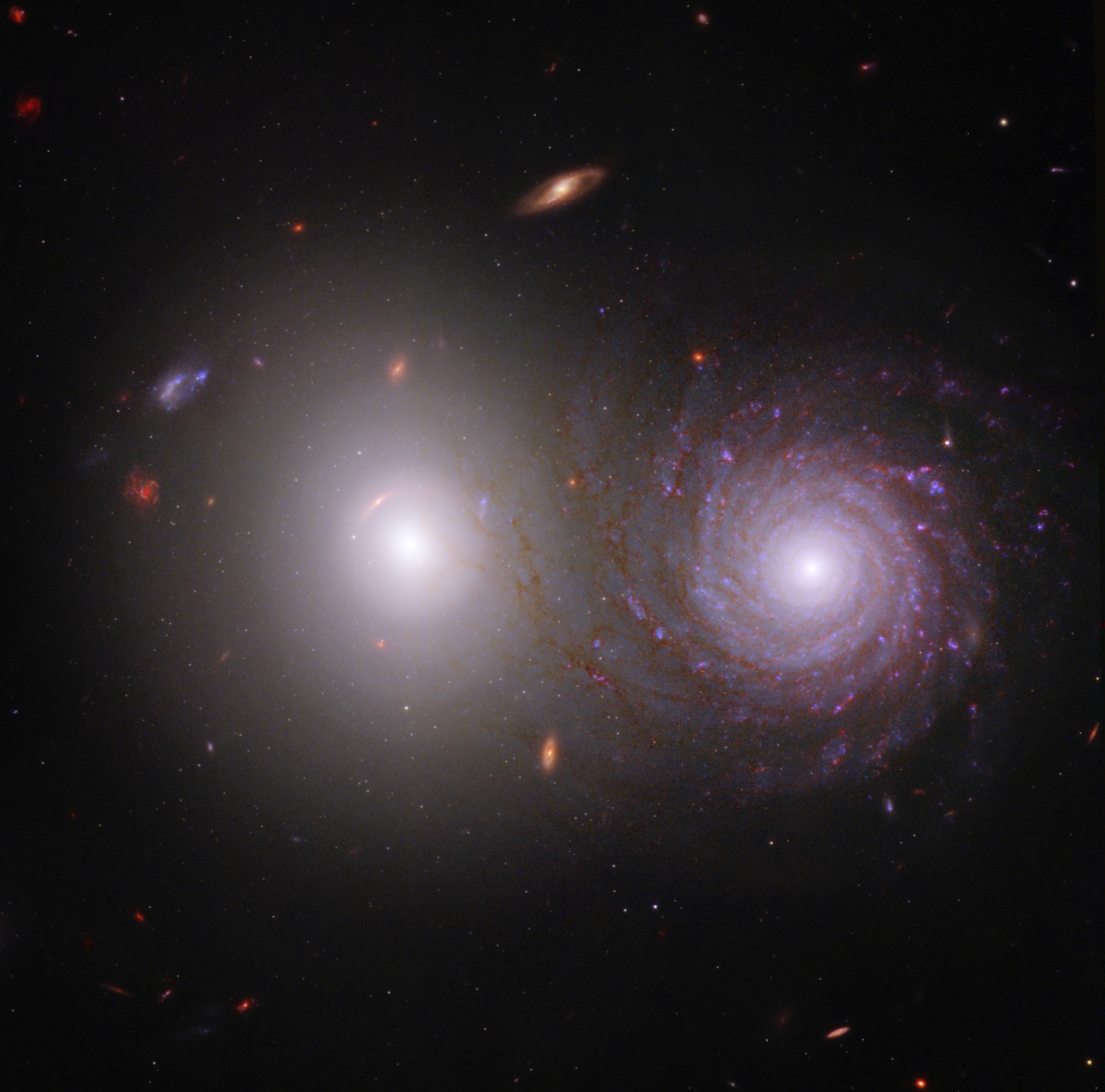 A beautiful new image of two galaxies, about 700 million lightyears away, shows how the Webb can help fill in cosmic stories that other telescopes can't provide. In this picture, the Webb image is rendered in redder colors and the Hubble image in bluer colors.
The galaxy on the right (which is closer to us) is a magnificent spiral shape, full of dust and gas for making new stars. Because dust is cool, it gives off more infrared light, which the Webb is sensitive to. You can see how the spiral arms are filled with darker dust clouds. The galaxy at the left (which is a little further away) is what astronomers call an elliptical, and is dominated by the light of many faint stars blending together.
Because the two galaxies line up, we can see some of the light of the elliptical filtering through the spiral. Look at the spider web of dusty spiral arms in the center of the picture right in front of the other galaxy. It's a beautiful superposition.
Astronomers can use the light that emerges from both to get detailed information about what the dusty raw material in the spiral is made of. An analogy on Earth might be seeing the lights of downtown Los Angeles through a thick layer of smog. If you examine the details of the light that passes through both, you can get information about what substances the smog consists of by seeing what colors in the city lights the smog absorbs.
Astronomers have been cataloging such lined-up pairs of galaxies for years, just waiting for the Webb to come on line and be able to do such analysis in detail. And this first image, and the analysis of the the light from the pair, showed them that they can indeed learn more about the dusty material in the spiral galaxy than they could with instruments we had before the Webb.
Two other things about this image. First, note the reddish little galaxies all over the image. Because the Webb is such a large telescope and collects a lot of infrared light, its images will generally also show faint objects much further away than the main subject of interest. Note for example, the red spiral galaxy just below the area where the two big galaxies intersect.
Second, can you see the reddish arc of light "inside" the elliptical galaxy? If it were a clock face, the arc would be at 10 o'clock. That turns out to be light from a much more distant galaxy being "gravitationally lensed" by the galaxy we have been talking about. Einstein predicted from his great theory of gravity, space, and time that strong gravity could act like a lens (or a funhouse mirror) and draw out light from distant objects into weird, curved shapes. Here is another bit of proof from our star-filled elliptical galaxy that Einstein's prediction was right.