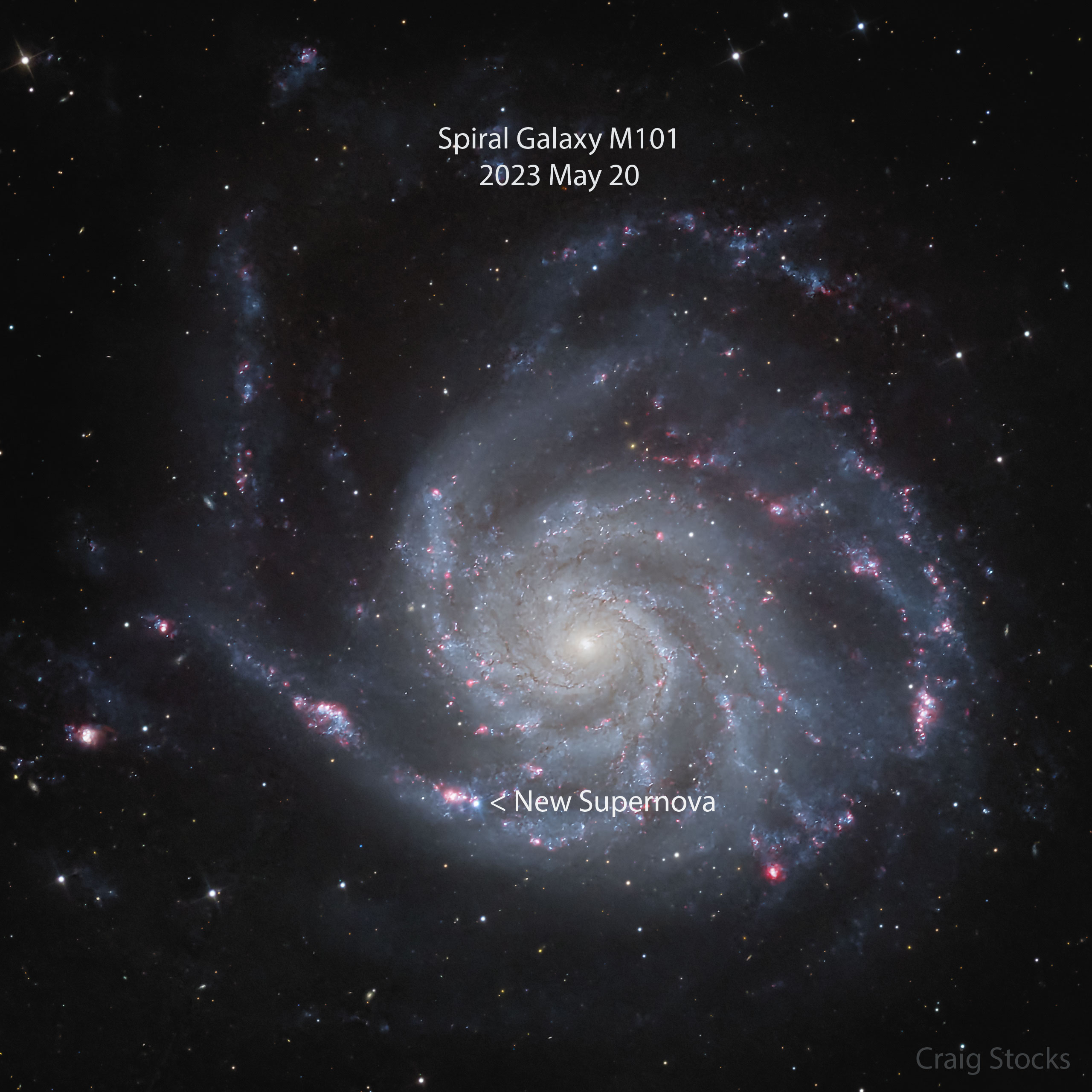 In a galaxy not so "far, far away," called the Pinwheel Galaxy (or by its catalog number, M101,) astronomers have seen a star explode. Some 21 million lightyears from us — which, believe it or not, is "close" as far as astronomers are concerned — a massive star ended its life by blowing most of itself into smithereens. We call such an explosion a supernova, a word that has entered popular culture as the name of at least five movies and a jazz album.
This supernova was only discovered on May 19th, and is still getting brighter and brighter. Some of these explosions can become so bright that they outshine their entire galaxy. We'll have to see how bright this one gets. I should point out that, at such a distance, you will need a telescope to see it. Astronomers and astronomy hobbyists around the world are following the progress of the star's death throes with interest. M101 is near the Big Dipper, so well situated for observers in the Northern Hemisphere.
Our best estimates are that the star that blew up had enough material in it to make 15 of our Suns. While stars like our Sun die by collapsing into a solid ball under the pull of their gravity, much bigger stars become unstable toward the end and just explode. Such explosions do leave behind the "squozen" core of the star, however, in one of two forms. It can become a neutron star, an unimaginably dense ball of pure neutrons, which we call a neutron star. Or, even more drastic, the core can collapse completely, until its gravity is so strong that not even light can escape, making a black hole.
We estimate that one such supernova goes off in a galaxy like our Milky Way once every 50-75 years. But M101 is a bigger galaxy, containing some one trillion, or a thousand billion, stars. (Like the national debt, such numbers are hard to take in.) So M101 is a source of more supernovae. The last one we saw in that galaxy was in 2011, not that long ago.
Because massive stars that explode are the places where the universe makes simple elements into more complicated ones, their explosions are a key place for recycling heavier elements, like gold or uranium. Indeed, any gold jewelry you happen to wearing, was made through the death of another massive star, many billions of years ago. It was thrown out into space by a supernova explosion, eventually joined the cloud of cosmic raw material that would make the Sun and the Earth, and is now on your finger, neck, or wrist. Pretty cool!
Our beautiful image was taken by Craig Stocks (craigstocksarts.com) at the Utah Desert Remote Observatories (www.utahdesertremote.com).