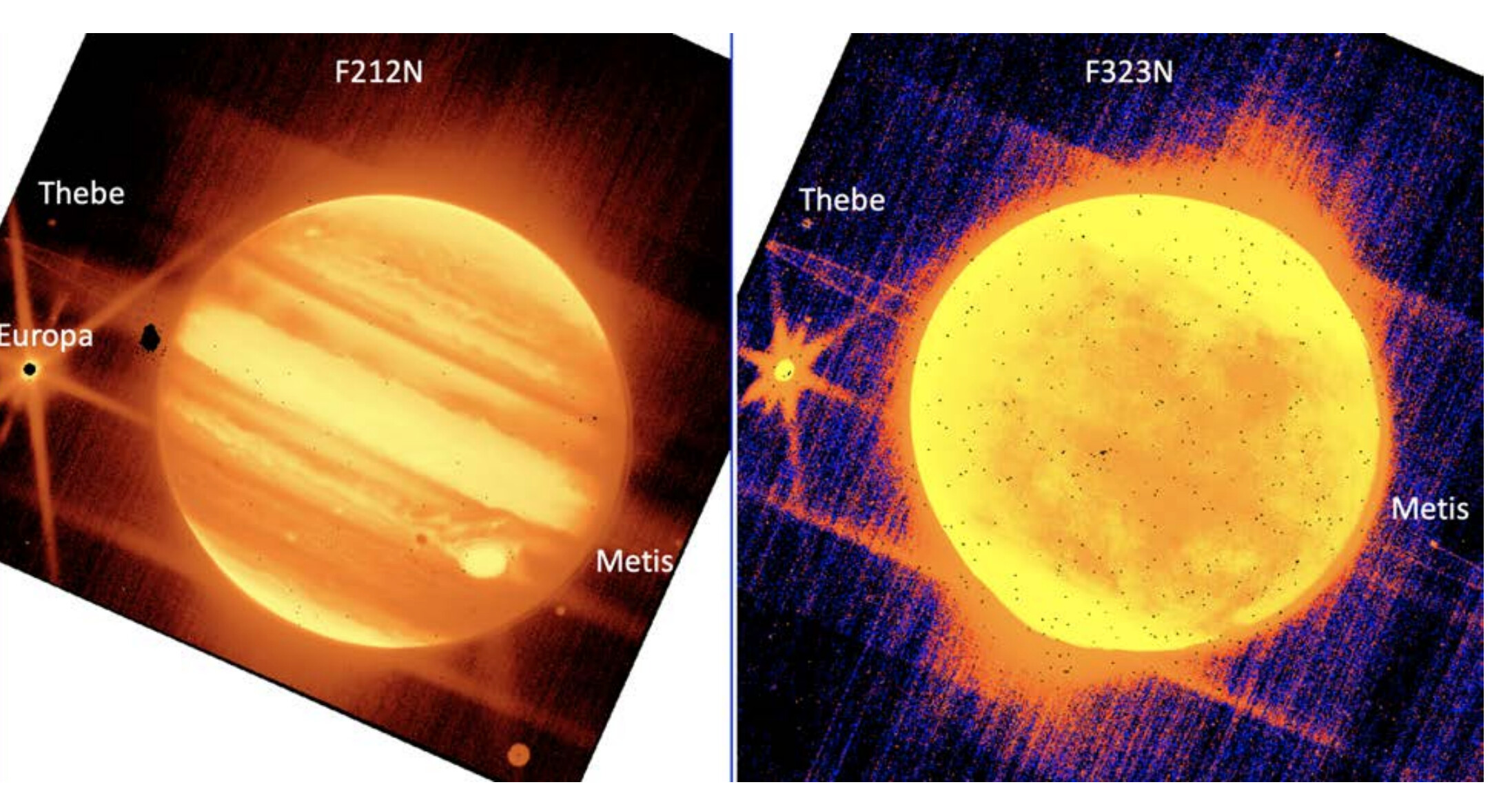 Soon after the scientists working with the Webb telescope released their gorgeous images for public consumption, they also started making available some of the images that were gathered as engineers checked the instruments and systems aboard the spacecraft that is the telescope. It turns out, one of set of these images held a pleasant surprise.
Few people know that the planet Saturn is not the only world with a ring around it in our solar system. All three of the other giant planets beyond the asteroid belt — Jupiter, Uranus, and Neptune — also have rings. Of the four ring systems, Jupiter's is the most pathetic: It's a thin set of rings consisting mostly of dust that comes from some of the innermost tiny moons that orbit Jupiter.
Jupiter's ring system is extremely hard to see from Earth (that's why Saturn's wide and reflective rings get all the media attention!) In fact, Jupiter's ring was only discovered when the Voyager 1 spacecraft brought its cameras close to Jupiter.
But here it is, already clearly visible in the commissioning images the engineers snapped. Remember, the James Webb Telescope observes infrared rays that our eyes can't see. So all the colors on these images are false colors, put in to help us sort things out on the pictures. The two images we are looking at were taken in two different infrared channels (or colors). The ring is especially clear on the right picture, close to where the small moons Thebe and Metis are shown.
On the left picture, the spectacular weather patterns on Jupiter are more easily seen. Because the planet Jupiter is made mostly of gas and liquid (its solid core is deep inside), and it spins very quickly, there are huge circulation patterns set up, which we see as the bands and zones that cross the face of the giant planet. The biggest "tropical storm" on Jupiter, the Great Red Spot, is visible on the left picture, next to the word "Metis." That storm, which changes in size over time, has been observed to grow as large as three Earths side by side!
To the extreme left on each image, you also get to see the large moon Europa, which missions to the Jupiter system have shown to be an icy world, with a sub-surface ocean, most likely made of liquid water. It glows bright in these images with its heat signature. It is one of our favorite targets for future close-up investigation.
If you'd like to see Jupiter in more detail in visible light (but with no HINT of a ring), one of my favorite images is at: https://photojournal.jpl.nasa.gov/jpeg/PIA02873.jpg