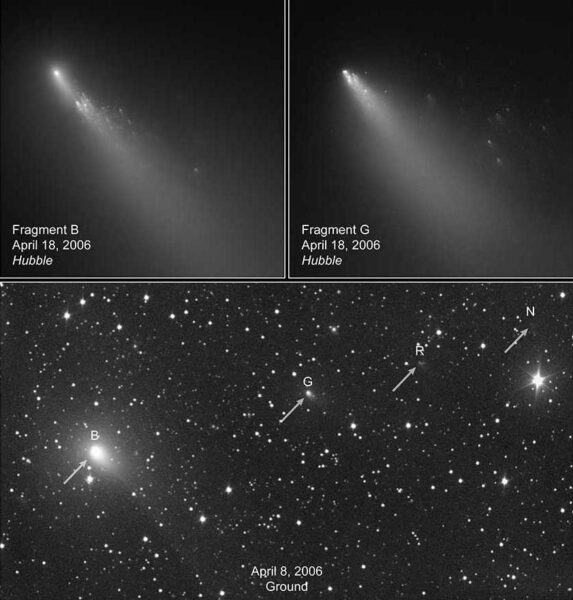 Some specialists in comet and meteor science are predicting that we COULD have a new, never-before-seen meteor shower on the night of Monday March 30th. (A meteor shower is when you can see a number of shooting stars in the dark sky over time.) Here is the full story.
Meteor showers happen when an old comet (a chunk of dirty ice left over from the formation of our solar system long ago) gets close to the Sun and begins to fall apart. As its ice evaporates, the dirt (and we mean just the kind of dirt you find under your desk when you are too busy reading astronomy stories to vacuum!) gets spread out along the orbit the comet occupied. After many years of this, quite a bit of loosened dirt can be orbiting the Sun just as the former comet did. Each time our planet (in its orbit) moves through this zone of dust, the pieces hit the Earth's atmosphere and burn up — which we see as a meteor or "shooting star."
Now, there happens to be a comet called "Schwassman-Wachmann 3" (after the two German astronomers who first discovered it in 1930) which orbits the Sun every 5 and a half years. It was considered a minor comet of little interest, until 1994, when it come around again, but looked 400 x brighter than before. How could that be? Well, it had broken into a number of fragments, exposing a lot more icy surface to evaporation and light reflection from the Sun. In 2006, images with the Hubble Space Telescope (seen here) and other space instruments showed that it had broken into even more fragments and was probably producing quite a bit of dust.
Its last appearance in 2017 showed even MORE pieces and more possibility of dust production. The chunks were distributing themselves along the old comet's orbit. So, now it's coming around again, and the 64 million dollar question is: will there be enough dust for a meteor shower? Some experts say yes, others are more hesitant.
If you want to check for yourself, the best time for shooting stars is 10 pm Pacific time Monday night (1 am Eastern.) But you can't just walk outside and expect to see anything. These meteors will be faint and impossible to see if city lights are brightening your sky. But if you can be in a dark location at that time, and give your eyes at least 10-15 minutes to adapt to the dark, and have a good view of much of the sky, you might just see some shooting stars as time goes by.
Some other hints: Dress warm, be patient, don't expect a laser light show, and bring a thermos of hot chocolate and someone with whom you like to spend time in the dark. At this time of the month, the Moon's light will not be a factor.
If you see a few shooting stars, congratulate yourself for being one of the first humans ever to see this meteor shower. If you don't, you can tell yourself that you have had a typical experience with science, where results are not always instantaneous or easy to obtain. Then we can all check back in another 5 1/2 years.